Discover more from Modern Delivery
Delivery's future, delivered to your inbox every morning
Starship Hits 2k Delivery Bots, 50 Campuses
Walmart + Wing + DroneUp, Shein + Forver 21, Hong Kong marketshare
lt's a big day for tech-powered delivery, with Starship hitting an impressive new milestone, and Walmart teaming up with two different drone startups. Plus, what can the food delivery world learn from the Shein & Forever 21 tie-up?
Today:
Starship's Delivery Bots Hit 50 Campuses, 2k Vehicles

Walmart's Droning Ambitions

Chart Time | How Fast Can A New Player Claim Marketshare?

Shein-Forever 21 Shows Promise of Virtual Going Physical

Thanks for reading Modern Delivery! Subscribe for free to stay on top of breaking news & industry trends.

---
AUTOMATION | Starship Hits 50 Campuses Nationwide
Not to be outdone by yesterday's Cartken + U of A news, Starship Technologies has just announced that its autonomous delivery robots now serve 50 college campuses across the U.S. Its fleet has grown to 2,000+ robots strong, serving over 1.1 million students in more than 25 states. Since launching on campuses in 2019, the company has completed more than five million deliveries, equaling 10 million kilometers (~6 million miles) traveled. Earlier this year, Starship announced that one of its robots completed 24 deliveries in 16 hours, 100% autonomously without any human intervention or oversight (the current L5 record.)
The Big Picture: While other competitors make inroads into the college market, Starship continues to lead the pact in that sector, and seemingly in the robotic delivery at large. Its 2,000+ vehicle fleet is about 77 times the size of the one Serve operated at the end of Q1. Speaking with Starship's VP of Business Development, Chris Neider, he added "Starship's reception on campuses has exceeded our best expectations. The campus communities have fully embraced our robots and made them an essential part of daily life not only in terms of how popular the service is, but also in how beloved they have become. Our expansion on campuses has helped us strengthen our competitive edge in the industry and launch new innovations that have us on track to become a profitable business."
---
DRONES | Walmart Teams Up with DroneUp and Wing
The ghost of Sam Walton is moving deliveries on a wing and a prayer! The Bentonville Big Boxer is expanding its drone delivery to 36 drone hubs nationwide. Alphabet-owned Wing is newly servicing some of those locations in the Dallas-Fort Worth area, bringing 60,000 homes into the delivery range (within approximately six miles of a qualifying Walmart location.) Concurrently, Walmart is expanding an existing partnership with DroneUp, which serves regions like Florida and Virginia.
The Big Picture: DFW has emerged as a real drone zone, with Wing long operating there (albeit not for Walmart) as well as competitors like Flytrex. Those two companies, along with UPS, Amazon and Zipline, are the only drone operators to receive Part 135 Air Carrier Certification, which allows service beyond the line of sight, a prerequisite for moving this concept from novelty to perceivably viable business. While the field has shown some promise for moving urgently needed goods like medical supplies, or traversing roadless regions, its still yet to prove its business case in an area like Dallas — where wide roads and flat terrain suggest a simpler way to get Rollbacks to eager shoppers.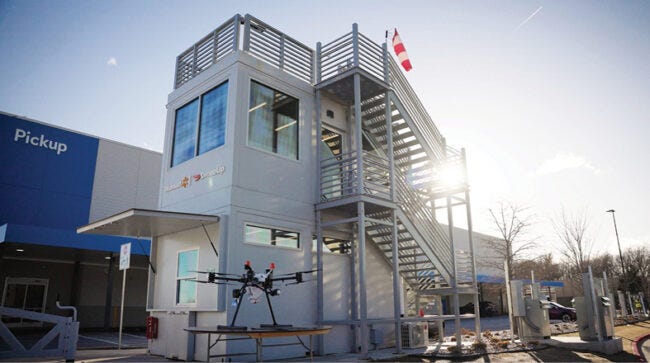 ---
CHART TIME | Keeta's Rapid Rise in Hong Kong
If you can imagine a competitive market for anything, its final form most likely exists in Hong Kong. That was particularly true for food delivery, where Deliveroo and Delivery Hero's Foodpanda duked it out to a 36% and 64% stalemate, having beaten out other contenders like Uber Eats. But in a sign of just how easily that status quo can be disrupted, Ecommerce giant Meituan launched its new Keeta brand in late May, and within a month it had carved out 20% of the food delivery market in the hyper-dense Mong Kok and Tam Kok Tsui neighborhoods of Kowloon. A month later it expanded to essentially the entire south-facing side of Victoria Harbor, and racked up a 10% marketshare for that larger region. Not bad for just a few days work — are you listening, Grubhub?
---
ECOMMERCE | Learning from Shein's Forever 21 Acquisition
Chinese fast-fashion giant Shein (recently valued at $66B) is teaming up with clothing brand Forever 21, as it takes a 1/3 ownership of Sparc Group, the half-mall half-brand licensor holding co that rescued the clothier a few years back. This means consumers will soon be able to buy dainty little numbers like these $12.59 loafers across a wider array of websites, while offering returns for say a $6.18 sweatshirt at any Forever 21's ~400 retail locations (we can't imagine why you'd want to return a piece of clothing that costs the same as a Big Mac.) Integrating the two businesses should be aided by the fact that both businesses operate their American divisions out of Greater L.A.
The Big Picture: An essential premise of this publication is that food can learn from fast-fashion (and vice versa.) This deal shows the opportunities that abound in moving a virtual (delivery-only) brand like Shein into the meatspace. We've seen some food delivery players try it… VDC and MrBeast opened a physical MrBeast Burger location (how'd that work out?) Brinker Int'l sees so much promise in its It's Just Wings brand that it's moving it to physical exist inside some Chili's. Nobody's quite cracked the code for pulling this off perfectly, but it's still worth trying…
---
A Few Good Links
Union looks to organize Home Chef workers. TouchBistro launches new management tools for POS system. Battery swapping system for delivery worker mopeds in Brazil. What did consumers buy during Qixi Festival (think Chinese Valentine's Day)? Starbucks trials reusable cups. B12Give offers on-demand surplus food to the needy. Minneapolis Mayor kills TNC minimum wage, claims to have inked side deal with Uber. Shipley Do-Nuts expands in Midwest. Unite Here looks to organize Boston coffee workers. Marco's Pizza hits 50 new locations in first half. Everytable launches family meals. LACI scores $1.5M for truck charging. OrderExoticSnacks.com - need we say more? Wingstop plans stock buy back. FLO honored for new fast charger. Schneider National plans more EV trucks in SoCal. Why bidders want Yellow's terminals. When you say retailers complaining about shrink — don't forget that they're mostly lying. Subway sold to Roark Capital (kudos to the edgy teenager that came up with that name.)
Got a tip, feedback, or just want to say hi? Reply back to this email.