Discover more from Modern Delivery
Delivery's future, delivered to your inbox every morning
Instacart Delivers Big First Public Quarter
Getir buys FreshDirect, Toyota's futuristic Kayoibako van, top deli items
Now that Instacart is a public company, we can add it to the long list of quarterly reports we track as we sleuth out the future of delivery. And we've got to say, their numbers are looking pretty good! We've also got Getir gobbling up FreshDirect, some new grocery item data, and a pretty cool looking new van from Toyota.
This week's edition is brought to you by Cambridge Mobile Telematics.
Today:
Instacart Grows Into Q3 Results

Getir Snaps Up FreshDirect

Chart Time | Grocers' Hot Stuff

Toyota Teases Futuristic Van
Thanks for reading Modern Delivery! Subscribe for free to stay on top of breaking news & industry trends.
---
3PD | Instacart Delivers Big First Public Quarter
Instacart released its first quarterly report since going public, and the grocery delivery company put up some strong numbers. Gross transaction value (GTV) grew 6% to $7.5 billion and orders climbed 4% to 66.2 million, pushing overall revenue up 14% YoY to $764 million. That $764M was composed of $542M in "transaction revenue" (ie Instacart's cut from grocery sales) and $222M in advertising revenue. With ad sales up 19% YoY thanks to strong back to school and football-oriented campaigns, and now accounting for almost 30% of revenue, it really does look like Instacart might soon be an ad platform first and a grocery platform second.
The Big Picture: The company has been battling a sagging share price since its public market debut. Even though the company beat the street's estimates for the quarter, and announced a $500M stock buyback, its share are still about $9 below their September highs. Company CEO Fidji Simo also put out a bit of a love letter to investors (PDF) highlighting the company's strengths and recent advancements like a repeat shopping tab, adaptive search, improved order tracking, family accounts, a Mastercard partnership, Fresh Funds and recently onboarded retailers like Giant Eagle and Camping World. While the company had a paper loss of nearly $2B, that was almost purely a reflection of stock based comp tied to the IPO; its adjusted EBITDA for the quarter grew to $163 million. The company expects to close the year with 3X the adjusted EBITDA it had in 2022.
---
PARTNER | Save Money and Make Drivers Safer
Insurance costs are skyrocketing for gig companies. In 2022, Uber's insurance costs increased by $1.4B from 2021. Lyft's insurance costs increased by $670M, contributing 90% to its increase in cost of revenue. To help reduce insurance costs, companies are turning to telematics. They're making drivers safer through real-time feedback and rewarding their safest drivers. 
---
QUICK COMMERCE | Getir Gobbles Up FreshDirect
Instant delivery stalwart Getir is breaking its piggy bank open to purchase FreshDirect, which has been delivering groceries in NYC and environs since 1999. (Ahh, the Webvan era!) While FreshDirect will keep its branding, its existing customers will receive pushes for Getir's quicker and more convenience-focused offerings, while leveraging the younger company's technology. Getir customers, in turn, will be able to tap into FreshDirect's broader product selection, especially for fresh foods.
The Big Picture: While Getir was once valued as high as $11.8 billion, that valuation has sunk to $2.5B as the instant delivery space fell back to earth. As such, it's likely the company will look to cut costs as part of this spendy integration; the company is already touting "significant synergies" to the deal. Getir is buying FreshDirect from Ahold Delhaize, the European grocery giant that also operates Stop & Shop, Giant and Food Lion in the Northeast. One big question is if Ahold, or its partner Centerbridge, will take a stake in Getir as part of the tie-up.
---
CHART TIME | What's Hot in the Deli Section
With two of today's stories focused on grocery delivery, we thought it could be a good moment to see which items are flying off of grocers' shelves. Looks like soup is hot, hot, hot — literally and figuratively — as that category is growing steadily, alongside pizza and prepared meats.
---
VEHICLES | Toyota's New Ultra Customizable Kayoibako Van
Fresh from the Japan Mobility Show, Toyota has previewed a new van that's definitely turning heads. It's the Kayoibako, so named in reference to the configurable shipping containers it resembles. Toyota touts that the customizability means the van is great not just for transporting cargo or shuttling passengers, but that it can be configured as a display shelf-holding mobile shop. The battery electric van is also designed with wheelchair accessibility in mind.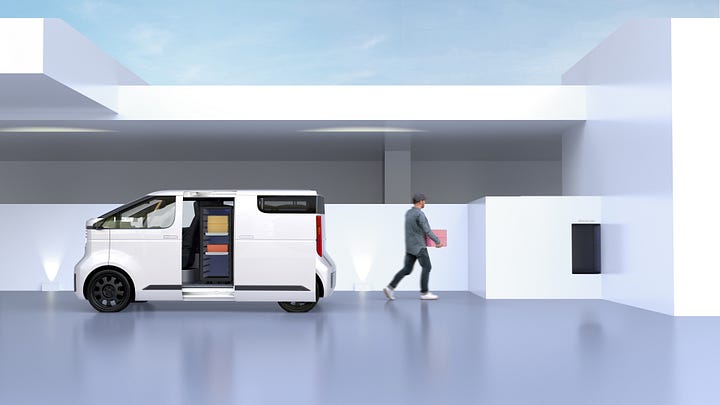 The Big Picture: This isn't Toyota's first stab at a mobile storefront. Back in 2018 it teased the e-Palette, a sci-fi looking, fully autonomous pod-mobile, similarly geared towards both deliveries and in-vehicle retailing. In 2021 the company piloted the Cuyana, a modular storefront that could be transported and set up in just a few days, allowing retailers to test popups in new locations on under-utilized real estate. While that concept got so far as to make a few appearances across California, Toyota's interest in the concept seemed to wane alongside the pandemic.
---
A Few Good Links
Jonah Bliss shares what to watch for at the next Curbivore, set for March 28 & 29. Lyft limps closer to profitability in Q3. Overstock.com to rebrand as Bed, Bath & Beyond. Kura Sushi sales up 30.7%. OpenTable appoints restaurateur Ellen Yin to advisory board. Young workers skipping lunch. In-N-Out to open first NM store by 2027. Amazon opens Fresh grocery delivery to non-Prime members.
Got a tip, feedback, or just want to say hi? Reply back to this email.