Discover more from Modern Delivery
Delivery's future, delivered to your inbox every morning
CloudKitchens' Cloudy Prognosis 🔮
Chick-fil-A mobile pickup, Shopify + Buy with Prime, record new biz openings
Today's a mixed bag of news, with CloudKitchens cutting back as it struggles with 50% occupancy rates. But if that bag contains fried chicken, you just grabbed it a whole lot faster, thanks to Chick-fil-A's new mobile pickup build-outs. And we've got some exciting news about new business openings, plus a big Shopify and Amazon partnership. Read on!
Today:
CloudKitchens Closes Stores, Sacks Workers

Chick-fil-A Launches 300 Mobile Pickup Restaurants

Chart Time | New Biz Openings Hit All Time High

Shopify Integrates Amazon's Buy with Prime
Thanks for reading Modern Delivery! Subscribe for free to stay on top of breaking news & industry trends.
---
VIRTUAL BRANDS | Prognosis Cloudy 🔮 for CloudKitchens
Staring into the crystal ball of delivery technology (or you know, the magic eight ball 🎱 we keep beside our desk,) things aren't looking great for Travis K's iconic ghost kitchen brand, CloudKitchens. The company has let go of workers, closed down locations in places like New York and Tennessee and slowed down new openings as it looks to tighten its belt. Sources say the group's properties, many of which are owned by shell companies, are only about 50% occupied.
The Big Picture: Big brands have soured a bit on ghost kitchens, with Domino's not renewing a pilot it ran with CloudKitchens in Vegas, and other players like REEF seeing projects with Wendy's disintegrate. While smaller brands remain interested in the space, they often lack the marketing resources to make the necessary splash to stand out without a physical presence. Don't count CloudKitchens out though — the company refinanced its debt when rates were low and sucked up $850M in new cash last year. Other sources also contend that when you count new customers that have signed leases but not yet begun paying, CK's occupancy rate looks more like 73%.
---
MOBILE ORDERING | Chick-Fil-A Converts 300 Restaurants to Pickup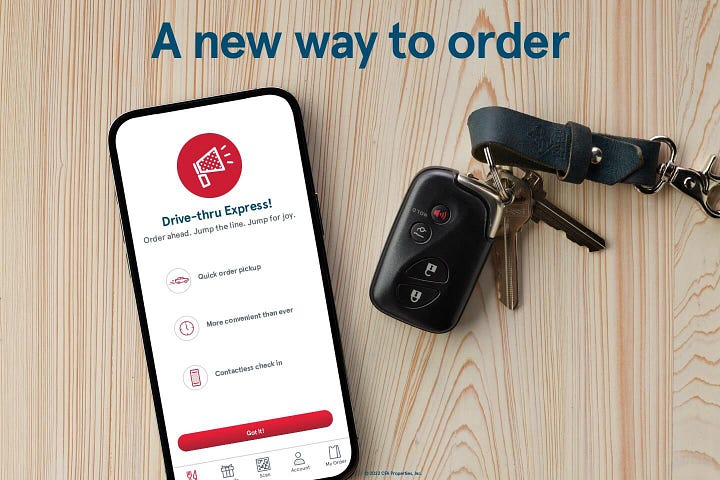 Chicken slangin' phenom Chick-fil-A is retooling its restaurants, adding 300 mobile order pickup lanes to its locations that are already known for driving way more revenue per store than the deep fried competition. Customers will pick "Mobile Thru" as the pickup destination when they place an order, and then scan a QR code in the dedicated drive-thru lane upon arrival. In testing, 85% of customers reported that they were likely to use the service again and 90% said their experience went smoothly.
The Big Picture: While the Atlanta-based company doesn't state it, we suspect this new lane will be used to pick up delivery orders as well, allowing couriers to speed up the time it takes to grab an order to take off premises, including with its preferred partner DoorDash. More and more restaurants are retooling their physical presence to enable that experience, including Whataburger, which just opened its first digital-ordering-only restaurant yesterday. Other chains like Del Taco have also recently cut the ribbon on digital-only locations.
---
CHART TIME | New Restaurant Openings at All-Time High
New data from Yelp paints a healthy picture for the restaurant sector, with openings in 2023 at an all time high. The first seven months of the year have seen a 25% pop in all new businesses compared to the same period last year, and a 46% rise compared to the same period in 2019; restaurants specifically are up 12% YoY, shopping and retail up 9%, bars and nightlife up 15% and food businesses up 18%. It's a diverse mix of founders powering this boom: LGBTQ-owned biz saw a 33% rise, while Black and hispanic owned business openings rose 28%.
---
ECOMMERCE | Shopify Integrates with Amazon's Buy with Prime
Amazon and Shopify are teaming up to unveil a new tool, allowing the latter platform's merchants to easily offer shoppers Buy with Prime functionality. Amazon Prime members will be able to select "Buy with Prime" on a product's detail page before completing their order within Shopify's Checkout, offering fast, free delivery and easy returns through Amazon's fulfillment network. After signing into their Amazon accounts, Prime members pay for their orders using a payment method from their Amazon wallets and Shopify Payments will process the payment through Shopify's Checkout.
The Big Picture: This marks a bit of an about face for Shopify, which previously warned merchants not to add Buy with Prime to storefronts when Amazon launched a less-integrated feature in April 2022. Evidently merchants didn't listen, as Shopify felt compelled to collaborate on this tool that allowed sellers to sync orders, promotions and inventory between the two systems. Amazon touts that Buy with Prime increases shopper conversions by an average of 25%. It's not all free growth for merchants though, with Amazon's fulfillment fees creeping up to 20-25% of a product's price, plus ongoing monthly storage charges. The Shopify partnership starts on an invite-only basis, but is expected to be open to all merchants by month's end.
---
A Few Good Links
Giant Eagle — the nation's 36th largest grocer with a heavy footprint in the Midwest — partners with Instacart. The company also recently appointed a new CEO. Massachusetts Domino's franchisee faces federal suit over driver pay. Ghost kitchen (and normal kitchen) holding co WOWorks launches collaboration with BigZpoon to personalize menus for allergen-sensitive customers. Inside Lunchbox's push into catering. FTC's Amazon antitrust suit due soon. SpeedX and Beans.ai partner on LMD. Little Caesars unveils "4-Quarter Calzony" — take a look at this monstrosity and email us back if you'd actually eat it…
Got a tip, feedback, or just want to say hi? Reply back to this email.