Discover more from Modern Delivery
Delivery's future, delivered to your inbox every morning
$22 Green Juice in 30 Minutes or Less
Uber profitable, Hertz pushes EVs, Deliveroo & Gojek
Before we get to today's spicy roundup of delivery updates, can we interest you in a 30 second survey? We'd love your thoughts about how to bring you even better daily news! Now on to the big news from your favorite famous grocers, delivery apps, and car rental giants.
Today:
Erewhon Launches 30 Minutes Delivery

Deliveroo & Gojek Team Up in Asia

Chart Time | Uber's Profitable & The Market Isn't Impressed

Hertz Turns to EVs to Power Growth
GROCERY | Celeb-Friendly Juice in 30 Minutes or Less
LA's organic AND celeb-focused grocer Erewhon announced a major update to its shopping experience: all items are available for local pickup in 15 minutes, or delivery in 30. That covers all 10 of the SoCal market's locations; although given the pace it's recently been expanding at, expect that number to keep rising. Importantly, the feature includes the grocer's prepared foods and juices / smoothies - which account for more than 40% of sales.
The Big Picture: When you're getting fans to shell out $14.50 for organic orange juice, $14 for a turmeric crush smoothie, or $21.75 for Hailey Bieber's Strawberry Glaze Skin Smoothie, you've got some serious margin to play around with. If we've learned anything from the rise and fall of most "super fast" players, it's that consumers don't care about getting a Snickers bar delivered instantly when they can walk to the corner 7-Eleven even faster. And good luck building a chain of dark warehouses to support that behavior anyway, given the tiny margins on commoditized packaged foods and produce. Erewhon's new update shows the differentiation you need to make delivery thrive.
Fun Fact: "Erewhon" may be an anagram for "nowhere" — but it sure doesn't sound like this chain is going anywhere any time soon…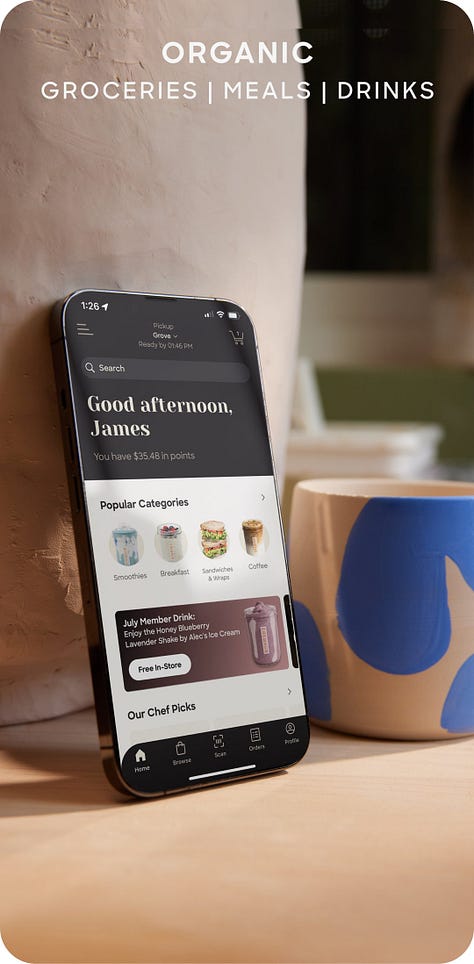 ---
3PD | Deliveroo & GoJek Team Up in Singapore
Third party delivery giant Deliveroo, and ridehailing super-app GoJek announced a new long-term partnership, as the two players combine forces in Singapore. To start, the tie-up means users on each app get discounted access to services on the other. Deliveroo Plus members can claim two 20% off Gojek vouchers per month; GoJek riders who take eight trips will receive two $4-off coupons for Deliveroo.
The Big Picture: Both companies claim this is just the start of a larger partnership, and the launch in Singapore hints at bigger ambitions. GoJek's largest market is Indonesia, where its shared-ride motorcycles are not only ubiquitous, but the company also provides banking, supermarket, and ecommerce services. Deliveroo is HQed in the U.K. but does nearly half its business internationally, with a strong footprint in Asia. For an American frame of reference, this is a bit like if Lyft and DoorDash announced a partnership, but if you could already pay your utility bills through the Lyft app…
---
CHART TIME | Uber's Profitability Upsets Investors?
Uber posted its first ever quarterly positive operating income statement and the markets reacted… negatively?! The company made $326M in operating income, yet investors soured on the company's $9.2B in revenue falling short of estimates, and its 14% YoY rev growth marking a slowdown over previous periods. The company's mobility division was up 28% in a constant currency basis YoY, overtaking delivery's revenue, as the latter segment only rose 14%. Membership programs look particularly promising for Uber, with members spending about 4x more than nonmembers.
---
RENTALS | Hertz Looks to EVs for Continued Growth
Hertz (and its sister brands Dollar and Thrifty) are looking to electrification to power the rental giant's continued growth. EVs are now 11 to 12% of the Hertz fleet, and the company is adding to that as it on-boards 175,000 EVs over five years. Consumer demand for the segment, combined with reduced maintenance and operating expenses, helped the company post $139M of profit on $2.4B of revenue in Q2; not bad for a company that was bankrupt a few years back.
The Big Picture: EVs are helping Hertz move beyond business travelers who need a 3-day rental at DFW. Its "Hertz Electrifies" program has it making in-roads into cities, where its putting both EVs and charging equipment into urban areas. That in turn is adding supply to its partnerships with Uber and Lyft, where it lets workers rent cars by the week, letting cash strapped drivers tap into higher-earning vehicles like Teslas. With Hertz now taking stock of lower-end EVs like GM's and Kia's, expect to see interest rise in using those vehicles for food and package delivery too — no need to burn fuel to move that burrito.
---
A Few Good Links
GoTab raises $18M for POS and kitchen displays; Series A led by Truist Ventures. WOWorks virtual brands launch first ghost kitchen prototype in SF. Operators voice concerns with virtual brand portfolios. Costco to automate sampling stations. Table Needs launches digital menus.
Got a tip, feedback, or just want to say hi? Reply back to this email.